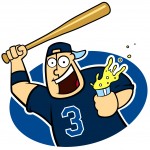 Watching this Rays win for Joe was like eating a huge plate of home-cooked pasta with steaming, hot garlic bread and chocolate cake for desert.
It was a feel good win.
While Rays fans had every right to have a hemorrhoid flare up over Jeff Niemann and Wade Davis being placed on the disabled list, rookie stud Jeremy Hellickson was the salve to sooth the burning and pain.
Just how much of a stud do the Rays have here? In just his second major league start going seven innings, he didn't allow a walk! That's more than impressive. That's uncanny.
Additionally, how about the leadership and cajones of this kid from the corn? Telling John Jaso how he will pitch to each different Tigers batter? He's never seen any of the Detroit hitters, save for perhaps a chance encounter in spring training. How would he know how to pitch to them?
With Hellickson pitching like this, Niemann won't be missed too much and Davis might be looking at a trip to Durham.
Great to see everyone in the batting order contribute. B.J. Upton actually appears to look like a productive offensive player. Dirtbag is out of his slump. If he continues to tag the ball, look out.
Anytime you can record a shutout with two rookies combining for eight innings, that's a damn fine win.
A feel good win.
Pass the fettuccine and make sure the icing is on that cake.
Likes

(

0

)
Dislikes

(

0

)