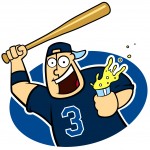 Stop Joe if you heard this before:
* James "No Game" Shields gives up a long ball (damned near two).
* The Rays offense is slightly less productive than Father Dungy's putrid offense with the Bucs.
* With runners in scoring position, the Rays wilt like an ice cream cone on an August Florida afternoon.
* The Rays stunk the Fruitdome up on a Friday night (but hey, the Village People are here!)
Of course Joe watched the game tonight, a three-hitter by Baltimore, with the immortal Jeremy Guthrie holding the Rays to two hits — TWO! But given this was a Friday night Joe had a strong hunch what would happen and the Rays didn't disappoint.
Even when Felix Pie tried to play matador with a routine can of corn to left giving the Rays runners at the corners, the Rays couldn't take advantage.
Joe doesn't know what is more frustrating: the fact scrub pitchers tie the Rays' bats up in knots, or that the team is simply allergic to Friday nights.
Maybe these guys need a collective slumpbuster prior to Friday night games?
Likes

(

0

)
Dislikes

(

0

)