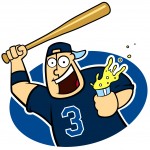 Damn, what a fun game this Rays win was tonight.
The coolest thing about the win? Wade Davis pitched like he did earlier in the year. His seven-inning, six-hit no walk perforance — and quick work no less – really put a smile on Joe's face as if someone bought him a beer at the Fruitdome.
If Wade Davis can pitch like this the rest of the way, Joe's pretty confident the Rays can outlast the Yankmees for the division.
How neat was it to see the Rays get an insurance run against Shawn Camp? Was there a more brutal (Devil) Rays closer than Camp? Watching the Jays make a couple of errors behind him following by a Dirtbag sac fly was karma my friends.
Good baserunning. Good power (Carlos Pena again). Good bullpen pitching (again).
This is some sweet baseball folks.
Now if Jeff Niemann can regain his form Tuesday…
Likes

(

0

)
Dislikes

(

0

)