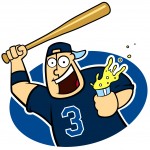 Joe got the DVR going for this one and it's now a pretty crappy Saturday morning.
Funny how the A's have looked a lot like the Rays in this series — opportunistic, winning with hustle and defense. (13K on a Friday night out there? Sheesh.)
Joe's just got a bad feeling rippling through him at the news that Hellboy is heading down to A-ball to learn how to be a relief pitcher, so reports Mark Topkin of the St. Pete Times.
Make the David Price 2008 analogies all you want this is a hell of a lot different. And it feels crappy.
Price didn't show up in '08 as an All-Star caliber starter when the Rays needed him most. He made a start, and jumped in the pen to blow hitters away with gas.
Hellickson kept it going last night with another strong outing in this bullpen-choking, 5-4 loss to the A's. The bats were a step above lifeless.
Sure, the Hellboy situation is all part of the grand master Sternberg plan. And if you look at the standings, it's presumably working. But when you're clearly in a win-now situation, likely losing many key pieces next year, this Hellboy move seems like old fashioned foolishness.
Likes

(

0

)
Dislikes

(

0

)