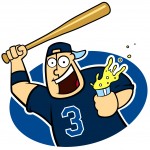 Boy, this game started out with some promise. The first two hits were consecutive doubles in the first by SRod and Willie Aybar.
Joe was pumped!
And then… um, did someone forget to pay the power bill?
From then on, that team in the road grays looked anemic. Three hits in the final eight innings, really? This will likely fan the flames of trade talk for another bat but just who could the Rays sneak past the Yankees on the waiver wire?
The impotent Rays reared their ugly heads again, now on a three-game losing streak, matching their season-long skid. Call it the Friday night funk or the hitless wonders. Either way it was sad.
Sad that a team with so much promise can get shut down so easily and frustratingly, so often.
Sad that yet another Matt Garza gem was pissed away. With just a little offense, Garza could easily have 14 wins.
If there is any consolation to this irritating loss to Joe is that the Rays are still only a half-game out. And that Friday, for another week, is gone. And that the Rays have not lost four in a row this season.
Saturday should be much better.
Likes

(

0

)
Dislikes

(

0

)