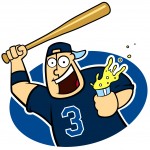 Mourn the loss of Cliff Lee? Or mourn the continued decline of James Shields?
Joe's wearing black tonight.
Shields came into Friday night's game against Cleveland at the FruitDome and made his now trademark longball mistakes, got unacceptably rattled by a balk call and continued his march toward a five-run ERA.
Andy Sonnanstine returned to his 2009 form, and the Tribe walked out with a 9-3 laugher.
Shuffle away on that rotation, Merlot Joe.
About the only enjoyment Joe can take away from this game is home plate umpire Jim Reynolds failing in his bid to go home early. After opening the strike zone wider than Nolan Ryan's grin tonight to kill the Rays rally in the seventh, the Tribe followed with a four-run eighth.
Could B.J. Upton throw out a turtle at home plate?
The Rays left 18 runners on base.
There's always tomorrow.
Likes

(

0

)
Dislikes

(

0

)