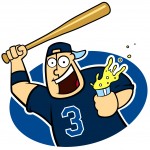 It was awesome to see the shutdown bullpen return and Rafael Soriano expecting perfection after slamming the door on a 5-4 win in Baltimore this afternoon.
Postgame MFIKY explaining in busted English how he apologized to Joe Maddon after last night's blown save was quite touching.
Joe eats that stuff up.
And Joe was promptly put back in his chair when MFIKY insisted he wasn't rusty last night. "No. No. No. No. No," Soriano said after Todd Kalas queried him about being rusty following a nine-day layoff.
While Joe surely expected nothing from James Shields today, "Big Game" brought at least what has become his game — enough for a good bullpen, strong defense and live bats to work with.
Sadly, there's really no glimmer of hope to Shields at this point. At least with Garza, everyone knows he's a wack job with better stuff who will probably snap out of it for at least a good stretch over the final 11 weeks.
So the Rays are now .500 through six games on this roadtrip with a couple that got away.
It's good enough right now, even it it doesn't feel that way.
Likes

(

0

)
Dislikes

(

0

)