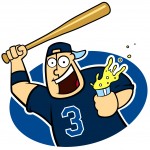 Have the baseball gods spoken? Almost makes a Rays fan think so after tonight's 4-0 win over the Tribe. It makes Joe wonder.
For the past few days, if not weeks, Rays fans were giddy with the growing rumors the Rays were working on a deal to bring the team a surefire, lockdown ace, Cliff Lee.
But Lee was traded to Texas Friday. In his first start for the Rangers Saturday night, he was shelled by the Orioles, giving up six runs. Seemingly channeling his inner James Shields, Lee coughed up three homers.
Meanwhile at the Fruitdome, Rays starter Matt Garza had a 2008 postseason-like outing. He seemed under control, not hyper, and mowed down the Tribe. Garza didn't try to throw the ball through Kelly Shoppach's mitt, but did rely on a heavy dose of fastballs. While he didn't get a lot of strikeouts, he allowed his defense to get the job done, which it did.
It was not unlike David Price's recent outing: pound the strike zone with strikes. No need to be cute.
In the ninth, Longo sure made up for his two rally-killing double plays earlier in the game when he dove flat out to his left to rob Andy Marte of a likely RBI and started a double play of his own, with Carlos Pena making a sweet stretch and tag on Marte.
So this is the Rays team that fans have come to expect: Strong pitching and solid defense. It's winning baseball.
Sure, Joe was hoping Lee would wind up in a Rays uniform, too. But just watching Saturday's game and monitoring the Rangers' box score, Joe had to wonder if, for at least a night, another non-move by Andrew Friedman was actually the best move?
Likes

(

0

)
Dislikes

(

0

)