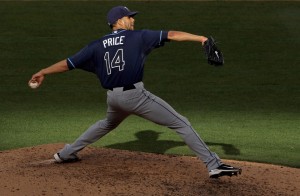 The GBT – The Good, The Bad and The Telling sandwich, where The Bad is nice and lean and the The Telling is ripe.
THE GOOD: Carlos Pena. Yes he has been in a funk (a realllly bad funk) but he has always been streaky and the defense will always be there. First there was the catch to end the 7th with the tying run on second. And there was the 8th inning double to end a 1-42 skid…BJ Upton. Bossman has got to be tired after flying back to Florida for the birth of his son and then returning to LA the next day. And yet he can still make a long run and sliding grab with 1 out in the 9th of a 1-run game look so easy (if not pretty).
THE BAD: Swingin' And Missin'. 14 strikeouts by Rays hitters. 12 from the right arm of Jared Weaver in 7 innings.
THE TELLING: In the 8th inning of a 1-run game with a runner in scoring position, Joe Maddon had Willy Aybar pinch hit for Pat Burrell against a right-handed batter. Ouch. One has to wonder why Burrell is even on the roster if he isn't even trusted in that situation…The last time the Rays won a series in Anaheim, Wilson Alvarez was the starting pitcher and Jose Canseco and Dave Martinez hit home runs (May, 1999)…For all the heartaches of this road trip, the Rays still went 6-3. And their 1.5 game lead at the start of the trip, is still 1.5 games. Not bad for a west coast swing. Not bad at all.
WHERE THEY STAND: The Rays are 24-10, 1.5 games ahead of the Yankees and 5 games ahead of the Blue Jays and Tigers in the Wild Card. After 34 games in 2008, the Rays were 18-16.
DEVIL DOGS WEBTOPIA…
For those of you that submitted questions for The Sporting News interview with Matt Garza, we have been told that Rays Index readers "will be well represented." You make us proud.
We shouldn't be surprised but it is still a bit of a letdown to hear Joe Maddon essentially say John Jaso will be sent packing when Kelly Shoppach returns. [St. Pete Times]
John Romano calls for the Rays to finally rid themselves of Pat Burrell and replace him with Hank Blalock. [St. Pete Times]
Tim Brown takes a closer look at the Rays rotation. [Yahoo! Sports]
Nicole Johnson (Elliot's wife): "Something you may not know about baseball families is that they *try* to get pregnant during spring training." [The Life of the Baseball Wife]
Shane Dyer and Henry Wrigley were named the Rays minor leaguers of the month. [Tampa Tribune]
Andrew Friedman spoke with WRAL in Durham. Nothing earth-shattering here, but if you have 10 minutes to kill… (audio) [WRAL]
Yesterday was apparently "Delmon Young Day." Whatever that means. [Twins Target]
DRays Bay looks at why we might not have to worry about Carlos Pena. [DRays Bay]
John Jaso spoke to Roger Mooney about the first month and taking responsibility for Monday's loss (video). [Tampa Tribune]
Brian Shouse hasn't retired, but he is now working as a coach for a high school in Illinois. [Peoria Journal-Star]
You can count the nose hairs in this interview of Reid Brignac…Pan out, PAN OUT! (video) [Tampa Tribune]
DOWN ON THE FARM…
Check out "The Rundown" from Rays Prospects for boxscores and more detailed recaps. [Rays Prospects]
DURHAM: Richard de los Santos made his 3rd start and worked into the 6th inning, allowing 2 runs. He struck out 5…Ryan Shealy and Angel Chavez homered for the Bulls…Desmond Jennings was 1-4 with 2 strikeouts and is hitting .270…Hank Blalock went 1-4.
MONTGOMERY: Alex Cobb allowed 2 unearned runs in 4 innings. He struck out 4 and walked 1…Nevin Ashley was 3-4 to raise his average to .294…Greg Sexton hit his 1st home run and John Matulia added his 3rd.
CHARLOTTE: Nick Barnese struck out 9 and walked just 1 in 5.2 innings, but dropped to 3-2 after giving up 3 runs on 7 hits…Leslie Anderson hit his first home run as a pro…Tim Beckham went 1-4 and Matt Sweeney was 0-4.
BOWLING GREEN: Ryan Wiegand hit his first home run.
Likes

(

0

)
Dislikes

(

0

)