http://www.tampabay.com/sports/baseball/rays/tampa-bay-rays-will-change-next-season-but-how-much/1038791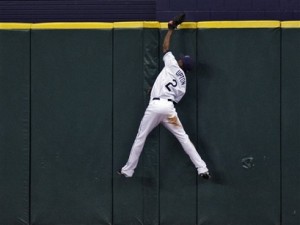 The GBT – The Good, The Bad and The Telling sandwich, where The Bad is nice and lean and the The Telling is ripe.
THE GOOD: BJ Upton. Upton is the Nicolas Cage of the Rays. Most of the time he "National Treasure," but every now and again he gives us "Raising Arizona." Last night it was 3 RBI, including a 2-run single in the 8th for the lead and then a leaping catch at the wall to end the game in the 9th…Ben Zobrist. Zorilla kept the M's lead at just 1 when he threw out a runner at home to end the 7th…Wade Davis. Not really good, but he wasn't bad either. He did give up 4 runs (2 earned) in 5.2 innings, but all 7 of the hits were singles and he walked only 1 batter while striking out 6. In triple-A this year, Big Dub seemed to lose some of his dominance striking out only 7.9 per 9 innings. However, that number is back up to 10.4 in the big leagues…Leading Off. Rays hitters were on base in 4 of the 8 innings. Two of those runners scored.
THE BAD: Situational Nonhitting. We get tired of typing it, but this team just has no idea how to get a runner home from third base and less than 2 outs. Last night it was second and third with no outs in the 2nd. A pop out, fly ball and strikeout kept the Rays from scoring…Bottom of the Order. They teamed up for a nice caught stealing in the 3rd but Reid Brignac and Dioner Navarro went a combined 1-8 with 3 strikeouts and 11 runners left on base.
THE TELLING: We get on BJ Upton from time to time. OK. We get on his case a lot. He makes a lot of mental errors on the basepaths and let's face it, injuries or not, he has underachieved the past two seasons. But we never accuse Upton of loafing. And the catch to end the game last night was the reason why. Watching it live, it looked so easy. It almost looked like he may have exaggerated the need to leap and made it look more dramatic than it had to be. Then we watched the replay and saw exactly how high Upton jumped for the ball (see above). He makes it look so easy. He'll continue to anger us, but not because he doesn't give max effort.
SUNBURST PLAYER OF THE GAME: BJ Upton
DEVIL DOGS WEBTOPIA…
John Romano looks at how the Rays roster may change next season. A few of the highlights: Romano calls BJ Upton one of the only "untouchables" in the lineup. Carl Crawford, Jason Bartlett and Carlos Pena are possible trade pieces. Romano suggests trading Pat Burrell for Milton Bradley. [St. Pete Times]
Rays Revolutionary says you should brace yourselves for a 2010 roster with BJ Upton in center and somebody other than Carl Crawford in left. [Rays Revolutionary]
Likes

(

0

)
Dislikes

(

0

)