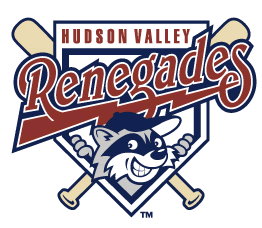 It is no secret that Minor League teams will do just about anything, in the form of a promotion, that will bring fans to the ballpark. But this latest one put forth by the Rays' own low-A affiliate, Hudson Valley Renegades, is definitely one of the stranger promotions we remember.
On July 7th, the Renegades will be hosting "Ball-Less Baseball." How does a minor league team play a game without any balls? Simple, no men allowed. Get it? No balls. We'll let the aptly named small ball usa provide the details…
History will be made this July 7th, as the Hudson Valley Renegades defy convention and possibly even common sense when they welcome only the "better half" into their ballpark. On this evening, all men will be greeted in their own separate zone outside the gates, with only female fans permitted inside until the game is official at the 5th inning mark . All boys, seven and under, will be allowed entry at any time…
We are still awaiting official word as to whether or not transvestites will be allowed in prior to the 5th inning, but we are fairly certain Julian Tavarez is safe.
Hudson Valley Renegades Announce "Ball-Less Baseball" Night (July 7) [small ball usa]
Likes

(

0

)
Dislikes

(

0

)