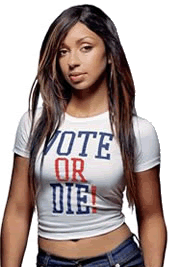 **VOTE FOR CARL CRAWFORD TO START THE 2008 ALL-STAR GAME**
We are calling on all Rays fans to stuff the ballot box with votes for Carl Crawford to be a starting outfielder for the American League in the 2008 All-Star Game.
We are also calling on all websites that cover the Tampa Bay Rays to join us in our campaign to make Crawford the starting left fielder on July 15th.
While his numbers may have been better in past seasons, C.C. is the most exciting player in baseball on the most exciting team in baseball, and the rest of the MLBiverse deserves to see C.C. in the starting lineup.
A couple of notes on voting for Carl Crawford…
VOTE EARLY AND OFTEN

: You can use this link to vote up to 25 times online. Once you have reached your limit, switch email addresses. If you run out of email addresses, make one up. If that doesn't work make your co-workers vote. Make your spouse/children vote. There is no reason for any Rays fan to NOT vote several hundred times.

DO NOT VOTE FOR THE FOLLOWING PLAYERS

:

Vlad Guerrero

,

Maglio Ordonez

,

Ichiro

,

Gary Sheffield

,

Grady Sizemore

or ANY YANKEES OR RED SOX outfielders. These are the players that Crawford is most likely going to be battling for a starting outfield spot. We don't care who else you vote for. Fill it out with deserving players or click the circle next to all the Rays or leave 'em blank. And remember, outfielders are grouped together. There is no distinction between left fielders and center/right fielders.

VOTE EVERY DAY

: We will remind you and provide the link every morning in the "Webtopia" section of "The Hangover". Each day you should go back and vote another 20-25 times.
Again, we are challenging all other Tampa Bay Rays or Tampa Bay Sports websites to provide a link to the voting and encourage their readers to vote for Carl Crawford. That includes DRays Bay, Rays of Light, Outs Per Swing, Her Rays, Rays the Roof, Tampa Bay Sports Blog, Bug & Cranks, The Serious Tip, Sticks of Fire. (Are we forgetting anybody?)
We are even calling on Marc Topkin and Marc Lancaster. So how 'bout it guys? Got the cajones?
Likes

(

0

)
Dislikes

(

0

)