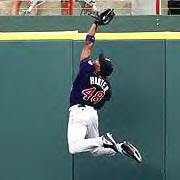 Peter Gammons' latest ESPN Insider piece highlights a recent meeting between Torii Hunter and the Rays three young prospects B. J. Upton, Elijah Dukes and Delmon Young. Hunter, a former first round pick came from a troubled background to emerge as one of the top center fielders in baseball. He sought out the three and relayed some of his own personal experiences to the young, talented, but oft-criticized triumvirate.
The article is part of ESPN Insider and can be found HERE. If you do not have an Insider account, here are a few snippets from the article.
"There isn't anyone in this game who doesn't have something back there in the closet…You just have to fight and get beyond it"–Torii Hunter

(Hunter) talked with Dukes about his own background, his street and gang life, his drug-ridden family situation, getting shot at, and like Gary Sheffield, how he knows the way out is never looking or going back.

"I did what I had to do…You will, too. You can be a great player. I want to see it. We all do. We want you to win."–Torii Hunter speaking to Elijah Dukes

What was so striking is that here is Hunter, making $12 million, going out of his way to help three young players trying to learn to trust themselves in their environment.

"If I can help anyone, then I've done something worthwhile"–Torii Hunter

"Torii is who we all should strive to be."–B. J. Upton
We understand the small payroll. We understand the talent on this team and letting it grow into something bigger and better. We even understand the hesitancy to jump into this off-season's over-priced and under-talented free agent market. But we have to wonder how much the Rays young stars could benefit from having a veteran presence like Torii Hunter in the clubhouse everyday. Is Greg Norton or Ty Wigginton that clubhouse big brother? We highly doubt it. And that is not a knock against those guys. We are sure players can learn some important lessons from them. We just don't think that Dukes or Young or Upton can relate personally to one of those guys. Sometimes it takes more than just talent.
Likes

(

0

)
Dislikes

(

0

)